Exploring Cascade Creek Falls in Ouray, Colorado
One of the highlights of any roadtrip to Ouray, Cascade Creek Falls is a mandatory stop to those visiting the Switzerland of America. This beautiful waterfall is easily accessible by foot and offers stunning natural beauty and a glimpse into the area's rich history. It is the most scenic of all waterfalls in Ouray.
And yes, we run Cascade Creek canyoning tours for those who want to step it up a notch!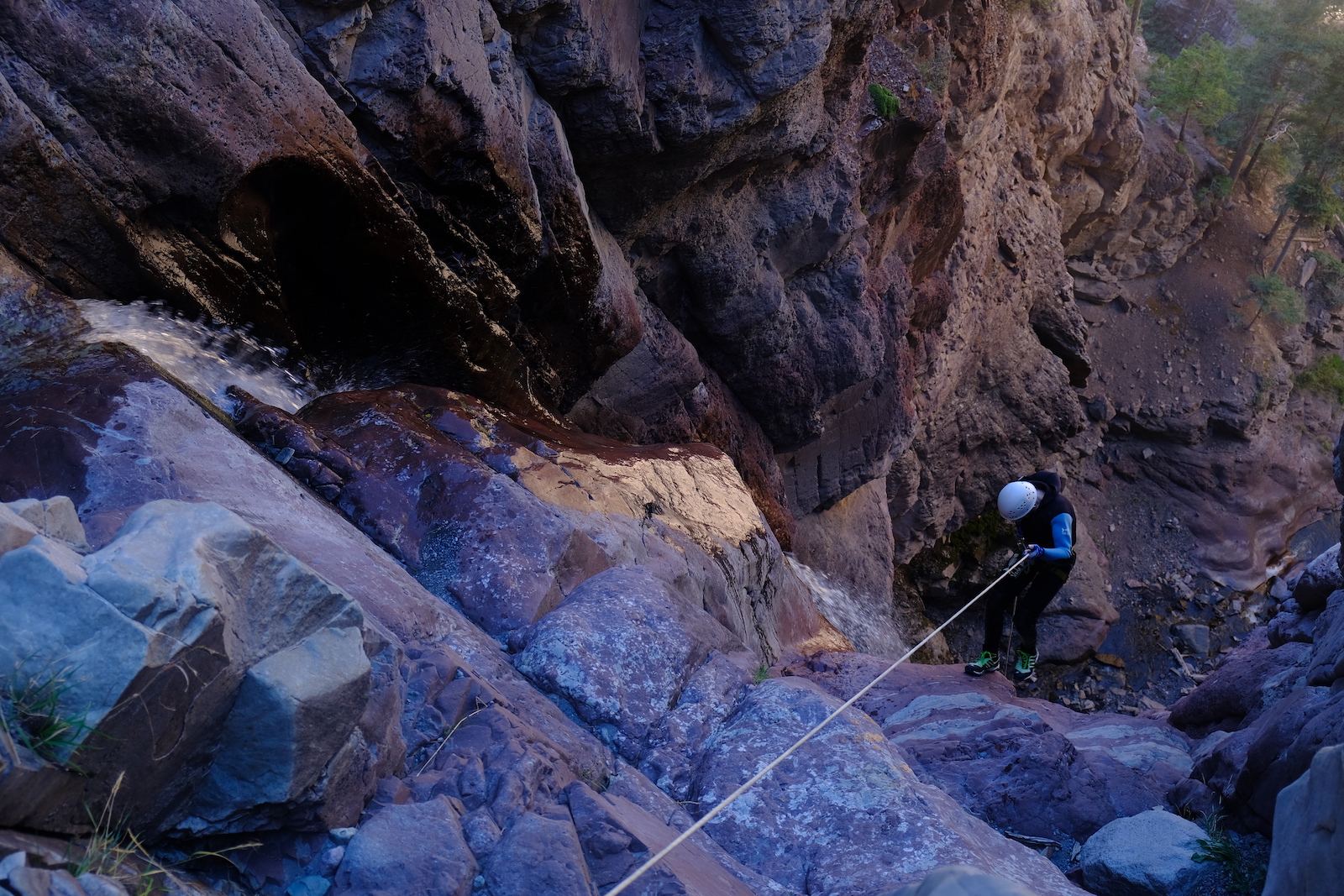 Cascade Creek Falls Historical Information
Cascade Creek was named by William Nunn, a prospector who discovered the creek in 1874. At the time, the area was home to several mining camps and was a hub of activity for prospectors searching for gold and silver.
Facts about Cascade Creek Falls
Cascade Creek is approximately 12 miles long and begins high in the San Juan Mountains, although don't expect to descend it in full during our canyoning experience… The creek is fed by several small streams and waterfalls before cascading down the mountainside and through the town of Ouray.
The height of the waterfalls in Cascade Creek varies throughout its length, with some sections featuring small rapids and others offering calm, tranquil pools. It ends at the postcard-perfect Cascade Creek Falls close to Ouray town centre. Cascade Creek Falls is approximately 270ft tall making it the highest waterfall in Ouray.
The creek is known for its clear, cold water, which is a result of its high elevation and the surrounding rock formations.
Cascade Creek Geological Formation
Cascade Creek flows through a narrow canyon that was formed by the erosion of multiple types of rock over millions of years. Most of the rock in the area was formed during the Precambrian era, which began more than 4 billion years ago.
The rock in the area is known for its pink and white colors and is composed of quartz, feldspar, and mica. The granite was formed from magma that slowly cooled beneath the Earth's surface, and it was later uplifted and exposed through erosion.
Cascade Creek Fact Sheet
Name: Cascade Creek
Named by: William Nunn, a prospector in 1874
Length: Approximately 12 miles
Highest Waterfall: Cascade Creek Falls (~270ft)
Rock type: Morrison, Cutler, and Hermosa sandstone
Canyon formation: Formed by erosion of sandstone layers over millions of years
Peaks surrounding Cascade Creek
Cascade Creek is surrounded by several peaks that offer stunning views of the area. Here are some of the most notable peaks and their height and prominence:
Mount Sneffels: Standing at 14,158 feet, Mount Sneffels is the tallest peak in the area. It has a prominence of 3,050 feet, making it one of the most prominent peaks in Colorado.
Gilpin Peak: This peak stands at 13,700 feet and has a prominence of 1,040 feet.
Dallas Peak: At 13,809 feet, Dallas Peak is one of the tallest peaks in the area. It has a prominence of 849 feet.
Cirque Mountain: This peak stands at 13,686 feet and has a prominence of 426 feet.
Teakettle Mountain: Standing at 13,819 feet, Teakettle Mountain is one of the most recognizable peaks in the area. It has a prominence of 719 feet.
Hiking trails in the area offer access to stunning views of these peaks and the surrounding landscape. Be sure to check the trail conditions and weather before embarking on any hikes in the area.
Cascade Creek Trail
Trekking to the base of Cascade Creek Falls is a must-do activity for those with just a half-day in Ouray, suitable for everyone. Whether you're interested in history, geology, or simply want to enjoy the peaceful surroundings, this location is not to be missed. The Cascade Creek trail is well marked and suitable for all fitness levels.
To visit Cascade Creek Falls, simply head to the town of Ouray and follow signs for the Cascade Creek trailhead. There are several hiking trails that offer stunning views of the creek and surrounding mountains, as well as plenty of opportunities for a nice picnic. Oh, and make sure you stop by our shop in town at 630 Main Street to ask for information!
Other Hikes near Cascade Creek Falls
Chief Ouray mine hike is one of the best hikes around Ouray.  It will take you to the upper catchment of cascade creek with beautiful views over the whole valley.  Once you reach the top you can explore the 2 abandoned mine buildings, used for gold mining in the early 1900's.  This is a strenuous 4.3 mile hike with nearly 2000 ft of elevation gain.